Testimonials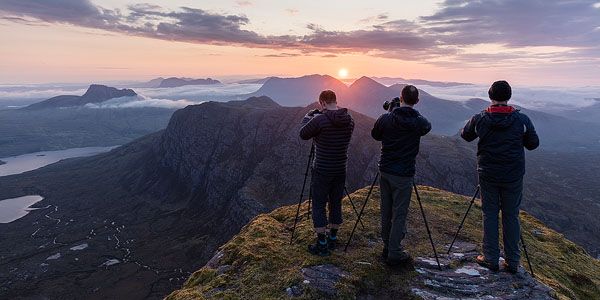 Sabin S.
Scotland Summit Camps 2016, Lofoten 2015
Photography is just a hobby for me but I also love mountains and I find wild camping and landscape photography a very logical combination. This makes Alex's workshops a great opportunity for me. His workshops are an excellent way to gain experience and knowledge while spending carefree days in the wild amidst stunning views in exploration of unspoiled remote locations. Alex would camp on amazing places and as one can expect, he is always well prepared with the route, shooting spots and directions. In Scotland surprisingly to all of us, he even arranged for a really good weather . The small number of participants gives each one plenty of time with Alex. The program is flexible and adaptable to changing conditions and to people's capabilities and needs. His style helps develop your own photography style rather than just stick to textbook fundamentals and repeating classic photos from famous locations. I've been to two workshops with him so far – in the Lofoten Islands last year and in Scotland in May/June this year and I had a great time on both occasions!
Alisa S.
Scotland Summit Camps 2016
It is already for few years Scotland was on my "must visit" list and when I came across Alex's workshop offer I realized I have got a chance to make my wish come true. It is not often when what you expect is what you get. But, this was not the case!! We were unbelievably lucky with the weather and with stunning views, and I personally was lucky with the team and Alex's choice of perfectly chosen points of shooting. Everything was well organized, all equipment in place. Alex was always ready to help, not matter was it with climbing or with photo shooting or processing. I am very happy with the way I spent this week in Scotland, and I have an experience with other photo tours to be able to compare with... I will be only too happy to participate in other Alex's workshops and would recommend it as a great opportunity for self improvement both in photography and in physical condition!!! :)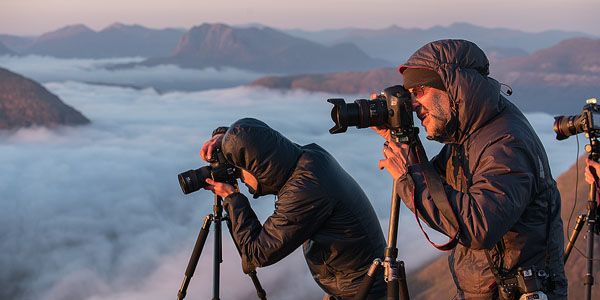 Steve F.
Scotland Summit Camps 2016
For several nights we wild camped on summits in the NW highlands so we could capture the landscapes in the beautiful light at sunset and sunrise. Alex not only took us to fantastic viewpoints and provided excellent advice and tips but also arranged perfect weather! Great week with other enthusiastic landscape photographers in the impressive Scottish highlands
Beat M.
Scotland Summit Camps 2016
I had the pleasure to be part of the workshop in north-western Scotland. This was my first but for sure not my last workshop with Alex. I followed his website a long time but it took my over 2 years to finally book a workshop. I had some good experience in outdoors and hiking and was looking forward to improve my photography. Alex helped always when I had a question or pointed things out for me. I learnt a lot about taking pictures and about image processing too. I liked that Alex had such great knowledge about the places to go so we decided spontaneously where to go next considering the weather conditions. It was just such a perfect mix for me (photography, adventure, outdoors, hiking). I can recommend Alex to everyone!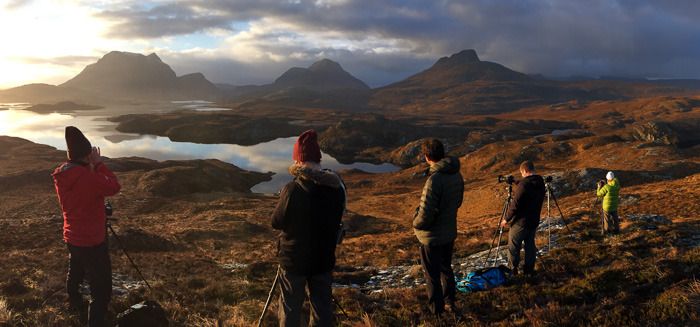 Graham D.
Assynt, Scotland 2016
I joined Alex on a highly enjoyable weekend workshop in Assynt, Scotland in April 2016. He combined enormous passion and knowledge for the area, taking us out to up to four separate locations each day. He was able to gauge how much (or how little) tuition I needed, stepped back when required and was always happy to help when I had a question. Alex kept a close eye on the weather and the clock, knowing which locations would work best at any given time of day. It was a real pleasure to spend the weekend with Alex on the workshop and I'd have no hesitation in recommending him to anyone else who wants to improve their photography whilst visiting off-the-beaten-track locations. I'll definitely attend future workshops with him.

Philip W.
Assynt, Scotland 2016
I joined Alex on a 2016 trip taking in some wild and remote locations in Assynt. More than just a photography workshop, it has reignited my enthusiasm for the great outdoors and hiking generally. Another bonus was that I got to brush up on my processing skills with some expert hands on tuition from Alex. I would definitely consider doing another of his workshops in the future.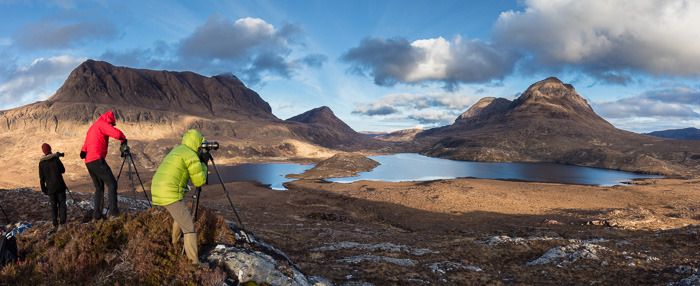 Dave S.
Assynt, Scotland 2016
Took the trip to Assynt and had a fantastic opportunity to hike a little and Alex took us to some spectacular places. Always available for as much or as little photography tuition as you want. As an unfit 52 year old I wished I'd prepared a little more for the hikes, but appreciated the encouragement, knowledge and drive Alex brings to his work. This was a memorable trip with probably the best photos I have ever taken. I can recommend Alex without hesitation.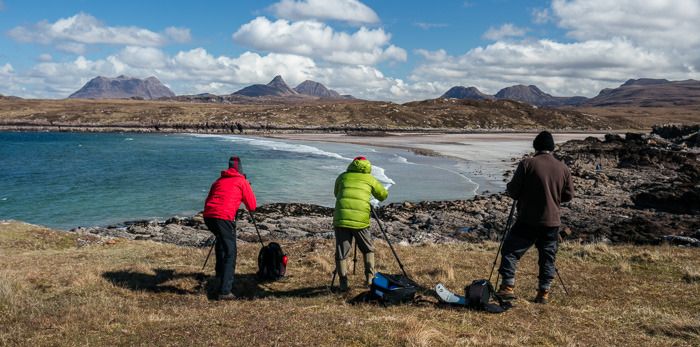 David K.
Assynt, Scotland 2016
Just returned from a trip organised by Alex to the Loch Assynt area of NW Scotland. The trip was fabulous with every detail meticulously researched and executed by Alex and Tony Spencer. We were taken to some fantastic locations & even the Scottish weather played ball meaning we all came away with some great shots. I would have no hesitation in recommending one of Alex's trips to anyone - hell he's even persuaded me to camp out with him on Snowden later this year!
Marcus F.
Langisjor, Iceland 2015; Assynt, Scotland 2016
My first time to Iceland and my first time wild camping in such remote areas made simple by Alex's great planning and knowledge. I had little interest in doing the tourist circuit that you see so many photos from in Iceland, so the opportunity to get off the beaten path and see areas that not everyone gets to see really appealed. The workshop had a great atmosphere to it from the moment we all met and very soon it felt as if you were simply out with your mates taking photos, which was exactly the type of workshop I was hoping for. Throughout the trip I could really see that Alex strived to make every day a memorable one for us. His constant attention to the weather and light ensured that when photographic opportunities emerged we were in the best place possible.
Adam C.
Langisjor, Iceland 2015; Assynt, Scotland 2014
I've had the pleasure of being on two of Alex's workshops recently. Both very different and yet both fantastically rewarding and insightful into all aspects of photography, hiking, camping and general landscape knowledge both technical and artistic. I've been with him to the north of Scotland in winter when the weather looked like it wasn't going to play ball, but we still managed to get to some amazing locations and with patience we all came away with some brilliant results. Most recently I've also been with him to Iceland, on an 8 day trip I'd say had been on my bucket list for years and again it never stopped short of delivering on every angle. His personal knowledge on all of the workshop locations is second to none and is massively confidence inspiring, as you can relax and enjoy yourself safe in the knowledge that he's got everything else covered. Aside from all the technical aspects, Alex is also a lovely guy to spend time with, which I think is massively important when you are hiking across foreign lands and patiently waiting for the heavens to reward you with stunning views to capture. I can't recommend his workshops highly enough, and I'll be back for many more in the future.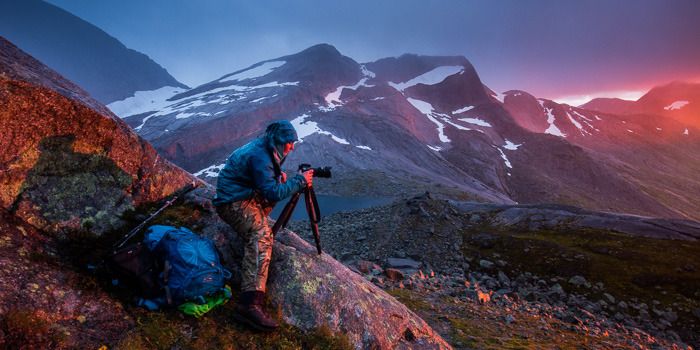 Marie L.
Iceland Langisjor 2015; Skye Scotland 2016; Lofoten, Norway 2017; Assynt Scotland 2014; Torridon Scotland 2014
I have been on four trips (edit: now 5) with Alex and each time has been as fabulous as the previous. Alex has such a fantastic knowledge of the area, down to the exact point and time at which there will be a sun star between two peaks. He evidently puts a lot of research into what he does and the trips which he plans. If you are the 'outdoors' sort, this is the only way by which to get fantastic landscape photographs. If one works hard to get to the top, then the photographs will be the reward: Alex ensures that every location has a fantastic photographic opportunity, whatever the weather. Not only does Alex have a great knowledge about his Canon camera system, but also about the other major brands. He is able to help me out with my Nikon and sort virtually any problem. I really cannot recommend a nicer person, better landscape photographer, a more understanding and patient instructor or a better guide to go with. Alex got me into landscape photography and with all of the trips I have been on / going on, with him, there is no getting me out of it!
Sean F.
Langisjor Iceland 2015; The Great Wilderness, Scotland 2015; Snowdonia, Wales 2014
As much as I've enjoyed other workshops, Alex's really offer far more by way of an experience. The adventure of wild camping in the mountains, having the opportunity the photograph unfrequented locations and fewer participants giving you far more time to gain tuition and far less time bumping elbows with other photographers. The First workshop I did with Alex was a 3-day introduction in Snowdonia. This trip removed any trepidation I had about wild camping and the level of fitness needed to hike in the mountains. I enjoyed it so much that subsequently I've been on workshops to Scotland and Iceland with him. Alex's organisation and photography skills are exceptional. He's also a nice guy to be around and it's easy to see he genuinely cares about the experience you have
Neil B.
Laugavegur, Iceland 2014
I've followed Alex's adventures and photography for several years now via his website blog. It was Alex's own images and trip report of his hiking expeditions across the southern highlands of Iceland that first inspired me to book onto a group trip with him along the Laugavegur route. I believe Alex's workshops offers unrivalled adventure. He is a stickler for detail and puts in a lot of time, effort and research in preparing for his trips, including a detailed kit list to ensure you bring just what you need. Our group had the relative luxury of taking 8 days to complete the 4 day trail, which allowed for side hikes into what seemed like virgin territory. Not a footprint or tyre track in sight. We explored new areas that Alex hadn't been to before, but his thorough preparation put us in some awesome locations in some fantastic conditions. We had a mixture of Icelandic weather (wind, rain, mist, sunshine) so never knew quite what to expect next. By the end of the trip, the hardest challenge we had was trying to come up with a word that trumped EPIC, which we all came to use rather too much! I thoroughly recommend Alex if you are seeking a photographic adventure. I plan to book onto future workshops with him.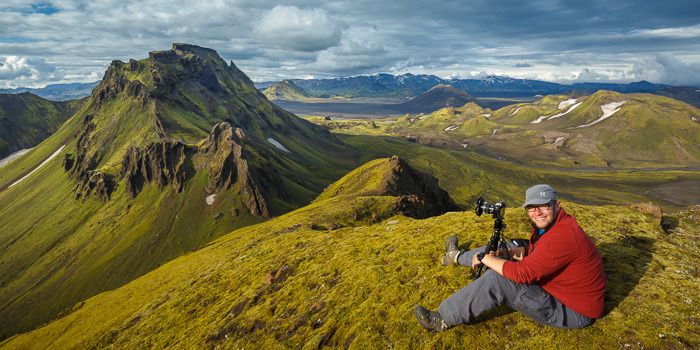 Greg W.
Laugavegur, Iceland 2014
I joined Alex on his Laugavegur Trail tour, my first ever trip to Iceland. I found him to be an excellent guide, tent mate and all round good bloke, on top of his excellent knowledge of photography. With Alex as your guide you will be given the best opportunity to photograph places that have possibly never been photographed before (or at least not photographed often), in all weathers and at all times of day and night, so much so that in my case I was able to capture an image that led to me becoming the Outdoor Photographer of the Year 2014. Epic.
Matthew B.
Laugavegur, Iceland 2014
One of the best hiking and photography experiences I've ever had. (and I've had a lot of them!) If you love hiking, photography, and camping there is no better way to see Iceland. I had one shot to make my trip memorable, and I definitely made the right choice. Alex is an expert on south-west Iceland, and will guide you to locations he has spent years researching. If you decide to go with him you're guaranteed to come away with unique, once in a lifetime images.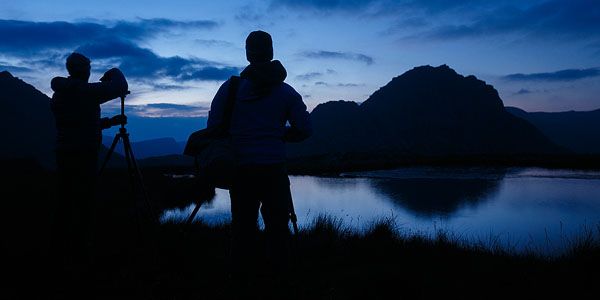 Andy R.
Snowdonia, Wales 2014
I had the pleasure of joining Alex on one of his 2 night 'taster' Snowdonia workshops, this was my first ever 'high up' photography wild camp and I wanted to see if I would enjoy the overall experience. Alex's knowledge of the area and skills as a mountain guide were second to none. I loved the lot and since the workshop I have invested in my own wild-camping equipment and try to get out at least once per month. If, like me you are a landscape photographer and want to take your photography opportunities to the next level then I cannot recommend an Alex Nail workshop high enough.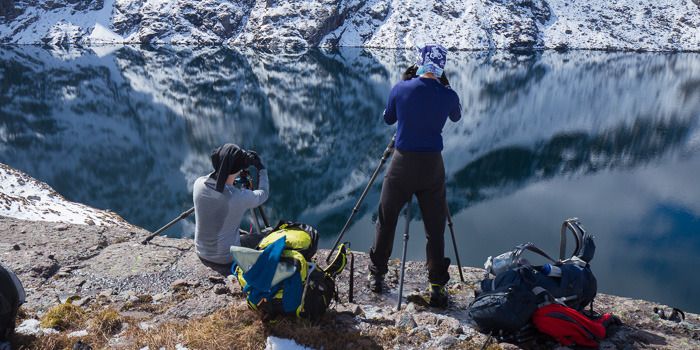 Harsharn G.
The Great Wilderness, Scotland 2015; Snowdonia, Wales 2014
I have been on a couple of Alex's photography workshops, the 1st being an introductory wild camping weekend in Snowdonia and the other a 5 day remote trip in the Scottish highlands. They were well planned and executed professionally with Alex planning the overnight camps according to weather forecasts and in order to provide the best possible opportunity for favourable conditions. This is just what happened, the timing was perfect and we got great light, and as the weather turned we timed our retreat to the comfort of a hostel, and continued to make outbound day trips up to variety of great locations. If you're after adventure, and unforgettable experience and to photograph in some truly exotic mountain landscapes, look no further than Alex to be your mountain guide and photography tutor in one.